This is Shelf Awareness' report from the 1st of May:
BISG Annual Meeting: Dealing with Paper and Printing Problems
A major focus of the Book Industry Study Group's annual meeting last Friday in New York City was the paper and printing problems that resulted in booksellers having difficulty reordering many popular titles during the holiday season last year. Those problems were what Janet McCarthy Grimm, v-p of Lindenmeyr Book Publishing Papers, called "a perfect storm," which included paper shortages, fewer printing and binding machines for books, several company collapses, a shortage of qualified workers, trucking and warehouse shortages, all occurring when the printed book has had a resurgence and some titles were in very high demand.
Although there were improvements in the general situation in the first quarter of the year, there is usually "some seasonal downtick at this time," Grimm added. "When orders pick up, we could switch back to a situation like last year very, very quickly."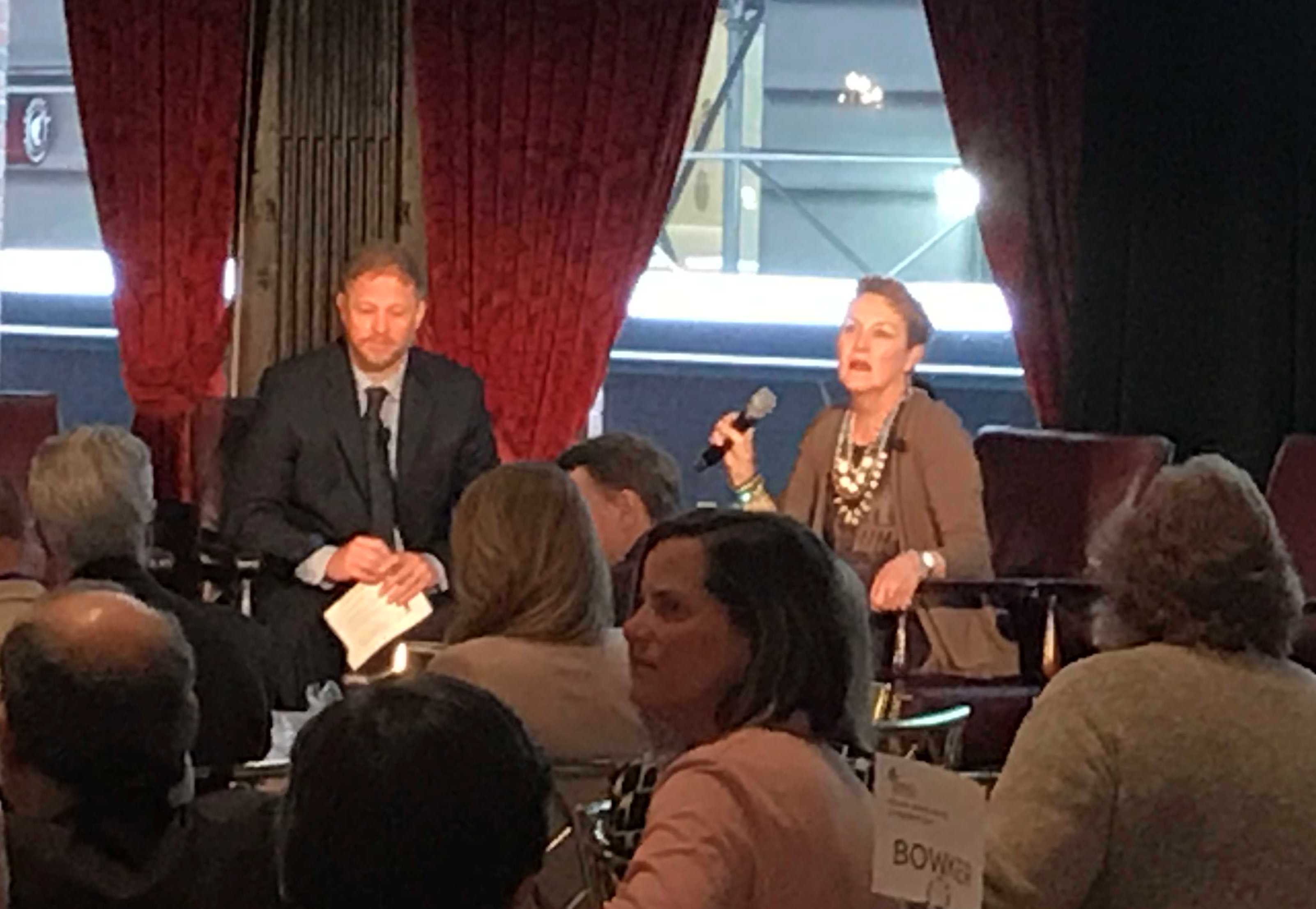 Grimm (r.) and Baehr
Speaking at the session on State of the Supply Chain: Paper and Printing, Grimm emphasized that part of the problem has its roots in decisions in recent years by paper mills, printers and binders to cut back on book-printing capacity because of the consensus that the book business was going to take a digital path similar to that taken by movies and music. Although this hasn't happened as predicted, the book-making industry hasn't adjusted well. As Matt Baehr, executive director of the Book Manufacturers' Institute, put it, "Those exiting the business are not coming back" and existing companies are not adding enough capacity. "No one is investing millions of dollars" in this area, he said.
In some cases, printers that don't specialize in books are taking on books as a side business to printing cards, brochures and fliers. Hardcover printing remains the most troublesome area because of the need for perfect binding. And publishers doing digital printing for hardcover books still have to find the right binders.
Baehr noted that the general printing difficulties extend to shipping and warehousing, saying that "the trucking industry is under tremendous pressure." Shipping continues to grow in volume, and there are many seasonal spikes, such as needing to transport food at harvest time and dealing with bad weather. Like the printing business and most other blue-collar businesses, the trucking industry is also having difficulty finding qualified drivers.
Both Grimm and Baehr emphasized that publishers need to be in steady contact with everyone in the book manufacturing chain and plan ahead as best they can. "Reach out to your manufacturing partners," Baehr said. "They want to be partners." Publishers should plan farther ahead than usual, and Grimm emphasized that this is especially true for big projects, and also lessens the stress of inevitable surprise projects.
Baehr noted that publishers who last year had "better luck printing generally were those who supplied their own paper." He advised publishers to "consider taking their destiny into their own hands" by finding paper sources.
Both printing problems and possible solutions are international, Grimm and Baehr said. Grimm said one way to improve the general situation is "to fill holes in the system with product from offshore."
The first paragraph does sound a little defensive: those naughty bookstores — buying too many books at Christmas; do they think we've got unlimited stocks? But of course it's not that we want to hold onto our books: it's that we can't get them in fast enough. Back when I started in this business there was a wide-spread feeling that having lots of stock on hand did represent an assurance that you'd have something to sell in the coming months and years. Of course that was back when we worked under the technological determinant of letterpress printing, where logic pushed you towards printing once and for all time. Reprinting existed of course, but was a burden, organizational and financial, (when I started out we didn't employ anyone whose job it was to order reprints, because there were vanishingly few of them). It wasn't until offset lithography took hold that reprinting became cheap enough to be fully incorporated into publishers' strategic vision.
Some of our recent capacity problems have something to do with a technological switchover analogous to the letterpress/offset switch which took place in Britain in the nineteen sixties, and over here somewhat earlier. We are in the midst of a move from offset to digital printing, and maybe there's been an overeagerness to junk offset presses before the digital capacity was in place to take up the slack. This sort of problem is self-healing: it's just a timing of investment issue. In the same way that the switch from letterpress to offset enabled publishers to reduce the quantities they'd print, so too does digital make it possible to print in smaller quantities than offset permits. That publishers find it desirable to print smaller runs does not have to mean that there's less demand for books out there — it means publishers are better able to match supply to demand by printing the "right" quantity. And this reduces the cost of unsold or slow-selling inventory and cuts down on wastage. It does however depend on a book manufacturing industry with the capacity to cope. At the moment we seem to be slightly out of balance.